SUNY Downstate Health Sciences University
Department of Pathology
Profile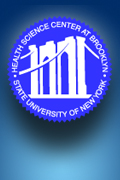 Caitlin Otto, PhD
Assistant Professor
Director of Microbiology
Department of Pathology
Tel: 718-270-8295 • Fax: 718-270-1967
e-mail: Caitlin.Otto@downstate.edu
Research or Clinical Interest Summary
Research Interest Summary

I am a clinical microbiologist with interests in molecular diagnosis of infectious diseases. As the Director of the Clinical Microbiology Laboratory, I oversee clinical testing in the laboratory and provide consultation regarding the ordering and interpreting diagnostic tests.
My research interests include the development, validation, and clinical evaluation of molecular tests. Our goal is to evaluate and measure the impact that new diagnostic tests have with the goal of improving patient care. In addition, I work in collaboration with several members of the division of infectious diseases to examine clinical bacterial isolates for antimicrobial resistance.
Selected Publications

Otto CC, Chen LH, He T, Tang YW, Babady NE. Detection of gastrointestinal pathogens in oncology patients by highly multiplexed molecular panels. European Journal of Clinical Microbiology and Infectious Diseases. 2017, 36:1665–1672.

Otto CC, Kaplan SE, Stiles J, Mikhlina A, Lee C, Babady NE, Tang YW. Rapid Molecular Detection and Differentiation of Influenza Viruses A and B. Journal of Visualized Experiments. 2017 Jan 30;(119).

Morjaria S, Otto CC, Moreira A, chung R, Hatzoglou V, Pillai M, Banaei N, Tang YW, Figueroa CJ. Ribosomal RNA gene sequencing for early diagnosis of Blastomyces dermatitidis infection. International Journal of Infectious Diseases. 2015, 37: 122–124
Otto CC, Arguello E, Mead P, Babady NE. Bacteremia Caused by Arcobacter butzleri in an Immunocompromised Host, Journal of Clinical Microbiology. 2015 53(4) 1448-1451

Otto CC, Shuptar SL, Milord P, Essick CJ, Nevrekar R, Granovsky SL, Seo S, Babady NE, Martin SC, Tang YW, Pessin MS. Reducing Unnecessary and Duplicating Ordering for Ova & Parasites and Clostridium difficile PCR Using an Alert at the Time of Request in the Order Management System. Journal of Clinical Microbiology. 2015 Jun 10. pii: JCM.00968-152015