SUNY Downstate Health Sciences University
Department of Pathology
Profile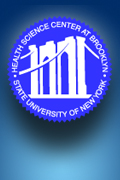 Susan R.S. Gottesman, PhD, MD
Director Clinlical Hematology Lab/Hematopathology Service
Department of Pathology
Tel: (718) 270-1661
e-mail: susan.gottesman@downstate.edu
Office:
University Hospital of Brooklyn, MSC 37
445 Lenox Road
Brooklyn, NY 11203
Office: UHB A2-631
Education and Training
New York University School of Medicine
Doctor of Medicine (1985)
Cornell University Graduate School of Basic Medical Sciences, Sloan Kettering Division
Ph.D., Major: Immunology (1979)
New York University, University College
BA Biology (1973)
Certifications and Licenses
New York State Medical License.
New York State Laboratory Director: Hematology, Cellular Immunology, Levels I-IV, Clinical Microscopy, Urinalysis, Coagulation, Histopathology.
Specialty Boards: Anatomical Pathology Board Certifiied
Immunopathology eligible
Yao, J., Gottesman, S.R.S, Ayalew, G., Braverman, AS, and Axiotis, CA. Loss of Foxp3 is associated with CD30 expression in the Anaplastic Large Cell Subtype of ATLL in US Caribbean Patients. Am J Surg. Pathol. In Press.
Huan, C., Kelly , M.L., Steele, R., Shapira, I., Gottesman, SRS., and Roman, C.A.J. Mitf related transcription factors TFE3 and TFEB are critical for CD40L expression and thymus-dependent humoral immunity. Nature Immunol 7:1082-1091, 2006.
Salarieh, A., Rao, C., Gottesman, S.R.S., Alagha, O., Todor, O., and Axiotis, C.A.: Plasma cell tumors in HIV positive patients: report of a case and review of the literature. Leuk. Lymphoma 46:1067-1074, 2005.
Rao, S.A., Gottesman, S.R.S., Nguyen, M.C., and Braverman, A.S.: T cell lymphoma associated with myelofibrosis. Leukemia and Lymphoma 44:715-718, 2003.
Sakhalkar, V., Rao, S., Gottesman, S.R.S., and Miller, S.: Hemophagocytosis and granulomas in bone marrow in a child with Down's syndrome. J. Ped. Hematol. Oncol. 23:623-625, 2001.