SUNY Downstate Health Sciences University
Department of Neurology
Profile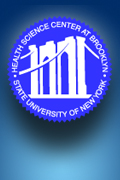 Patricia Kavanagh, MD, MBA
Assistant Professor
Clinical Assistant Professor of Neurology
Tel: (718) 403-9255
e-mail: info@403walk.com
Clinical Subspecialty:
Movement disorders
Research Interests:
Mobility
Education and training:
MD: Albert Einstein College of Medicine
Residency:
Internal Medicine: Beth Israel Medical Center, New York
Neurology: Neurological Institute, Columbia-Presbyterian Medical Center, New York
Fellowship: Fellowship in Movement Disorders: Beth Israel Medical Center, New York
Patient Appointments:
Monday, Tuesday, Thursday.
Insurance Accepted:
Medicare and major PPOs, call office.
R. Saunders-Pullman, D. Raymond, G. Senthil, P. Kramer, E. Ohmann, A. Deligtisch, V. Shanker, P. Greene, R. Tabano, N. Huang, M. Tagliati, P. Kavanagh, J. Soto-Valencia, P. de Carvalho Agular, N Risch, L. Ozelius, S. Bressman, Narrowing the DYT6 Dystonia Region and Evidence for Locus Heterogeneity in the Amish-Mennonites, American Journal of Medical Genetics; Part A, 143A:2098-2105, 2007.
E. Louis and P. Kavanagh, John Adams' Essential Tremor, Movement Disorders, 20(12):1537-42 December, 2005.
P. Kavanagh, S.J. Ferrando, J. Godbold, M. Veytsman, A. Di Rocco, Depression Subtypes are Associated with Motor Subtypes of Parkinson's Disease (abstract), Movement Disorders Society 9th International Congress, March 8, 2005.
P. Kavanagh and K. Marder, Dementia in Parkinson's Disease, in Parkinson's Disease and Nonmotor Dysfunction, R. Pfeiffer and I. Bodis-Wollner, eds., Humana Press, 2005.
D. Barbut, F.S. Yao, D.N. Hager, P. Kavanagh, R.R. Trifilleti, J.P. Gold, Echocardiography to Monitor Emboli During Coronary Artery Bypass Surgery, Stroke, 27(1) 87-90, January 1996.