SUNY Downstate Health Sciences University
Department of Medicine
Profile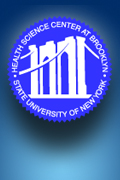 Amarpali Brar, MD
Assistant Professor of Medicine
Transplant Nephrology, Division of Nephrology
Tel: (718) 270-1584
Education and Training:
Fellowship:

Fellow in Transplant Nephrology
July 2010 to June 2011: SUNY Downstate Medical Center, Brooklyn, NY.
Fellow; Division of Nephrology
July 2008 to June 2010 :SUNY Downstate Medical Center, Brooklyn, NY.


Medical School:

Government Medical College, Patiala, India, 1997-2002
Career / Research Interests:
Renal transplantation
Chronic kidney disease
End stage renal disease
Ramsey-Goldman R, Brar A, Richardson C, Salifu MO et al. Standardized incidence ratios (SIRs) for cancer after renal transplant in systemic lupus erythematosus (SLE) and non-SLE recipients. Lupus Science & Medicine 2016;3: e000156. Doi: 10.1136/lupus-2016-000156
Brar A, Stefanov DG, Jindal RM, Salifu MO et al. Mortality on the Kidney Waiting List and After Transplantation in Patients With Peripheral Arterial Disease: An Analysis of the United States Renal Data System. Transplantation proceedings 2016; 48:15-20.
Tedla FM, Roche-Recinos A, Brar A. Intravenous immunoglobulin in kidney transplantation. Current opinion in organ transplantation 2015;20:630-7.
Tedla F, Brar A, John D, Sumrani N. Risk of transmission of human T-lymphotropic virus through transplant. American journal of transplantation: official journal of the American Society of Transplantation and the American Society of Transplant Surgeons 2015;15:1123-4.
Brar A, Babakhani A, Salifu MO, Jindal RM. Evaluation of non-adherence in patients undergoing dialysis and kidney transplantation: United States transplantation practice patterns survey. Transplantation proceedings 2014; 46:1340-6.
Norin AJ, Mondragon-Escorpizo MO, Brar A, Salifu MO et al. Poor kidney allograft survival associated with positive B cell - Only flow cytometry cross matches: a ten year single center study. Human immunology 2013;74:1304-12.
Brar A, Jindal RM, Sumrani N, Salifu MO et al. Impact of renal post transplantation amputation on allograft outcomes: a study of United States renal data system. Transplantation 2013;95:1249-53.
Brar A, Jindal RM, Elster EA, Salifu MO et al. Effect of peripheral vascular disease on kidney allograft outcomes: a study of U.S. Renal data system. Transplantation 2013;95:810-5.
Brar A, Jindal RM, Abbott KC, Hurst FP, Salifu MO. Practice patterns in evaluation of living kidney donors in United Network for Organ Sharing-approved kidney transplant centers. American journal of nephrology 2012; 35:466-73.
Tedla FM, Brar A, Browne R, Brown C. Hypertension in chronic kidney disease: navigating the evidence. International journal of hypertension 2011;2011:132405.