SUNY Downstate Health Sciences University
Department of Family Medicine
Profile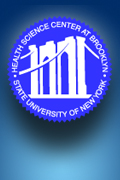 Orlando Sola, MD
Clinical Assistant Professor
Dr. Sola joined the SUNY Downstate community in 2017 where he works as Clinical Assistant Professor in the Department of Family Medicine. Dr. Sola comes from a diverse background of Puerto Rican and Filipino descent. He has enjoyed working with diverse communities in both English and Spanish throughout New York. Prior to medical school, he worked as a home attendant for individuals with developmental needs. He completed his medical education at Columbia University College of Physicians and Surgeons in Washington Heights, and obtained his Master's of Public Health at Johns Hopkins University where he pursued his interest in Health Policy as a policy intern in Washington, D.C. Dr. Sola completed his residency training in Family Medicine at the Institute for Family Health, at Mount Sinai Hospital in New York.
Dr. Sola's medical interests range from pediatric to adult care. He enjoys working with adolescent and young adult communities, and specializes in procedural care of issues in Women's Health, Dermatology and Musculoskeletal disease. In his procedure clinic, he provides full spectrum contraceptive management, including IUD and implants, as well as joint injections, skin assessments and skin biopsies.
Dr. Sola is the Associate Director of the Primary Care 1 rotation, at SUNY Downstate Medical Center in the College of Medicine where he runs the didactic curriculum for third year medical students. Dr. Sola enjoys participating in community outreach events at health fairs and local schools while continuing to stay active with local advocacy organizations.
Dr. Sola looks forward to growing with the diverse community of Central Brooklyn as a primary care provider, teacher and community advocate.