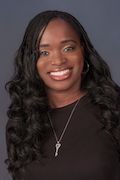 LaToya Trowers, EdD, MBA
Assistant Professor
Health Policy and Management
(718) 613-8566
(718) 221-5154
Academic Qualifications:
EdD: Capella University
MBA: New York Institute of Technology
Background and Expertise:
LaToya L. Trowers, Ed.D, MBA is the Assistant Professor of Health Policy & Management in the School of Public Health at SUNY Downstate Medical Center. Dr. Trowers is skilled at designing, coordinating and providing the best practices and procedures for teaching and learning Healthcare Management principles. Dr. Trowers-Bell is a published author with many years of Healthcare Management experience working in administration as well as a consultant, in areas such as Cardiology, Clinical Outreach, Neurosurgery, and Neuro-Ophthalmology.
Prior to joining SUNY Downstate Medical Center, Dr. Trowers served as a Professor and Department Chair of Healthcare Administration at other academic institutions. Dr. Trowers has worked in the field of higher education for many years in addition to her professional experience.
Dr. Trowers is the recipient of the Faculty of the Year Award for Outstanding Teaching and Student Appreciation and the Excellence in Teaching Award from the National Society of Leadership and Success.
Dr. Trowers is an active speaker on the subjects of academic and health issues. She is a member of The American College of Healthcare Executives, Pi Lambda Theta – Education Honor Society, the National Health Care Leaders Association, the Association of Hispanic Healthcare Executives, Health Leaders of New York.
Her educational background includes a Doctor of Education degree in Educational Leadership and Management from Capella University, a Master of Business Administration degree in Healthcare Administration from New York Institute of Technology, and a Bachelor of Science degree in Healthcare Management from Colorado Technical University. She also holds a certification as a Healthcare Manager and as a Holistic Nutritionist.
Research areas of interest:
Health Promotion for the aging population
Health Promotion and Disease Prevention
Population and Family Health