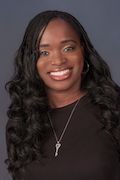 LaToya Trowers, EdD, MBA
Assistant Professor
Health Policy and Management
(718) 613-8566
(718) 221-5154
Academic Qualifications:
MBA – New York Institute of Technology
Ed.D. - Capella University
Background and Expertise:
LaToya L. Trowers-Bell, Ed.D, MBA, is an esteemed Assistant Professor of Health Policy & Management within the School of Public Health at SUNY Downstate Health Sciences University. With a wealth of expertise, Dr. Trowers excels in designing, coordinating, and implementing best practices in teaching and learning Healthcare Management principles. Her extensive experience spans various specialized areas, including Cardiology, Clinical Outreach, Neurosurgery, and Neuro-Ophthalmology. Prior to her current role, Dr. Trowers-Bell served as a Professor and Department Chair of Healthcare Administration at prestigious academic institutions. Alongside her professional experience, she has dedicated considerable time to the field of higher education.
Dr. Trowers-Bell's research focuses on two critical areas: student engagement in healthcare administration and equitable treatment for disadvantaged populations in healthcare. Her investigations aim to ensure inclusivity and eliminate disparities, providing all individuals equal access to quality healthcare. Beyond her academic pursuits, Dr. Trowers-Bell is a published author, enriching the field of healthcare management with her valuable insights. Additionally, she is a trusted consultant, utilizing her profound knowledge and experiences to optimize healthcare organizations and improve patient care outcomes.
Courses Taught:
HCAD

5201

: Introduction to Healthcare Administration

HPMG

5203

:

Health

Management

Concepts

HPMG 5207: Principles of Hospital Manage

ment