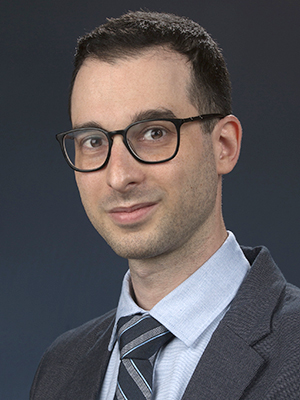 Daniel Levitan, MD
Clinical Assistant Professor
Department of Pathology
Education and Training
2009-2013, MD, Magna Cum Laude, St. George's University School of Medicine
2013-2017, Anatomic and Clinical Pathology Residency, SUNY Downstate Medical Center
2017-2018, Oncologic Surgical Pathology Fellowship, Memorial Sloan Kettering Cancer Center
2018-2019, Gynecologic and Perinatal Pathology Fellowship, New York-Presbyterian Hospital/Weill Cornell Medicine
Research and Clinical Interest Summary
My clinical and research interests lie in oncologic surgical pathology as well as gynecologic and perinatal pathology.
McEachron J, Baqir AW, Zhou N, Jabbar A, Gupta R, Levitan D, Lee Y-C. Evaluation of the incidence and clinical significance of WT-1 expression in uterine serous carcinoma. Gynecol Oncol Rep. 2021 Dec;39:100918. PMID: 35024404
Schwartz DA, Baldewijns M, Benachi A, Bugatti M, Bulfamante G, Cheng Ke, Collins RRJ, Debelenko L, De Luca D, Facchetti F, Fitzgerald B, Levitan D, et al. Hofbauer Cells and COVID-19 in Pregnancy.

Arch Pathol Lab Med. 2021 Nov;145(11):1328-1340

. PMID: 34297794

Abstract: Salahi N, Jabbar A, Gupta R, Levitan D. Adenoid basal carcinoma with adenoid cystic-like features, a rare diagnostic dilemma. Poster presentation. American Society for Clinical Pathology Annual meeting (Virtual), October 27-29, 2021.
Abstract: Emechebe D, Guzman JC, Levitan D, Loukeris K. Endometrioid carcinoma exhibiting microcystic, elongated, and fragmented (MELF) pattern of myoinvasion and occult lymph node metastasis detected with ultrastaging. Poster presentation at the College of American Pathologists Annual meeting (Virtual), Sept 25-28, 2021.

Schwartz DA, Levitan D. Severe Acute Respiratory Syndrome Coronavirus 2 (SARS-CoV-2) Infecting Pregnant Women and the Fetus, Intrauterine Transmission, and Placental Pathology During the Coronavirus Disease 2019 (COVID-19) Pandemic: It's Complicated. Arch Pathol Lab Med. 2021 Aug;145(8):925-928

. PMID: 33878167

Cagino K, Levitan D, Schatz-Siemers NF, Zarnegar R, Chapman-Davis E, Holcomb K, Frey MK. Multiple malignant transformations of an ovarian mature cystic teratoma. ecancer. 2020, 14:1009
Ma LX, Levitan D, Baergen RN. Weights of fetal membranes and umbilical cords: correlation with placental pathology. Pediatr Dev Pathol. 2020;23(4):249-252. doi:10.1177/1093526619889460
Lu C, Levitan D, Axiotis CA, Liu J. Concomitant multifocal gastrinomas and adenocarcinoma in the stomach: a case report and literature review. Hum Pathol: Case Reports. 2016 July 9;0(0):1-4.
Levitan D, Harper AE, Sun Y, Carniello JVS, Momeni A, Kagan J, Alexis H, Eid I, Harris L, Marshall B, Tafani E, Pincus MR. Do serum creatinine levels show clinically significant fluctuations on serial determinations on the Siemens Advia 1800 analyzer? J Clin Lab Anal. 2016 July 1;0:1-4.
Arora S, Levitan D, Regmi N, Sidhu G, Gupta R, Nicastri A, Saggi SJ, Braverman A. Cryoglobulinemia in a patient with chronic lymphocytic leukemia (CLL) – a case report and review of literature of renal involvement in CLL. Blood Cells Mol. Dis. 2016 June 17;60:7-11.