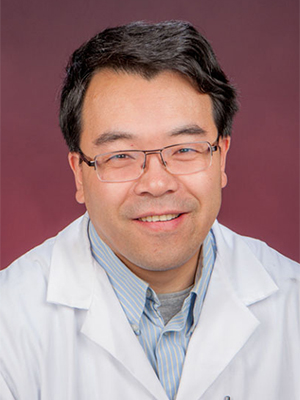 Ning Neil Chen, MD, PhD
Clinical Assistant Professor; Director of Molecular Pathology
Department of Pathology
(718) 270-2279
(718) 270-1967
Office
SUNY Downstate Medical Center
Office location: BSB 4-128D
Education and Training
MD, Nanjing Medical University, Nanjing, China;
PhD, Medical University of South Carolina, Charleston, SC;
AP/CP residency, Nassau University Medical Center, East Meadow, NY;
Molecular Genetic Pathology fellowship, Virginia Commonwealth University, Richmond, VA;
Hematopathology fellowship, City of Hope National Medical Center, Duarte, CA.
Certifications and Licenses
American Board of Pathology, Anatomic Pathology/Clinical Pathology (AP/CP);
American Board of Pathology, Hematopathology;
American Board of Medical Genetics/American Board of Pathology, Molecular Genetic Pathology;
Active Medical License in the State of New York and California;
Certificate of Qualification (CQ), New York State (CLEP).
Research or Clinical Interest Summary
My clinical and professional responsibilities include routine surgical pathology, cytology and autopsy cases sign out, as well as managing and sign out all in-house molecular testing and send-out molecular testing. I also actively participate resident, fellow and medical student teaching and education.
My clinical and research interests include translational research in oncological surgical pathology, developing and implementing new molecular diagnostic testing in-house, and validating new molecular and immunohistochemical markers in clinical diagnostic pathology.
Abstract:

Li T, Diks J, Nguyen S, Zeng J, Chen N, Vignesh S. Next-Generation sequence proves clonal relationship between two distinguished lung and liver carcinomas by standard histopathologic approach. Presented at the American College of Gastroenterology Annual meeting. Las Vegas, NV, October 22-27, 2021.
Caguiat K, Abromowitz M, Dubrovskaya V, Reka S, Garcia R, Chen N. Gastric sarcoidosis – a case report. Abstract submitted for the American College of Gastroenterology (ACG) annual meeting, Philadelphia, PA, October, 2014.
Chen N, Sabato F, Powers CN, Wilkinson DS, Ferreira-Gonzalez A and Dumur CI. Validation of a Coamplification at Lower Denaturation Temperature PCR (COLD-PCR) Combined with Direct Cycle Sequencing to Detect KRAS Mutations for Therapeutic Decision in Colon Cancer. The 16th Annual Meeting of the Association for Molecular Pathology (AMP), San Jose, CA, November, 2010
Chen N, El-Gohary Y, Ezedi I, Powers CN, Wilkinson DS, Ferreira-Gonzalez A and Dumur CI. Validation of a Coamplification at Lower Denaturation Temperature PCR (COLD-PCR) Followed by Sanger Sequencing Method for KRAS Mutation Detection in Colon Cancer Specimens. The 99th Annual Meeting of the United States and Canadian Academy of Pathology (USCAP), Washington, DC. March 2010.
Shah HO, Fan G, Chen N, Freedman L and Lin JH. Primary Ewing Sarcoma/Primitive Neuroectodermal Tumor of Soft Tissue in the Perinephric Region. The 59th Annual Meeting of American Society of Human Genetics, Honolulu, HI. October 2009