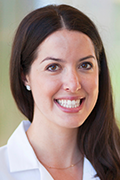 Nickisa Hodgson, MD, MAS
Assistant Professor of Ophthalmology
Department of Ophthalmology
(718) 270-1714, (718) 780-1530
Overview:
Nickisa Hodgson, MD, MAS is an Assistant Professor of Ophthalmology. She is a board-certified, ASOPRS fellowship-trained oculoplastic surgeon. Dr. Hodgson specializes in reconstructive and cosmetic surgery of the eyelids, orbit, and lacrimal system, as well as non-surgical facial rejuvenation.
Dr. Hodgson completed medical school at the University of California, San Diego. While in medical school, she was awarded a NIH T32 grant and obtained a Master's of Advanced Studies in Clinical Research. She completed ophthalmology residency at the Shiley Eye Institute at UC San Diego. She then went on to complete a prestigious ASOPRS Ophthalmic Plastic and Reconstructive Surgery and Neuro-ophthalmology fellowship at the Wilmer Eye Institute at Johns Hopkins University.
Dr. Hodgson believes each patient deserves a personalized treatment plan. She listens carefully to her patients to ensure they receive the best possible care. She feels privileged to care for and support her patients and community in New York.
Areas of Expertise:
Blepharoplasty
Brow lift
Ptosis (droopy eyelid) repair
Congenital ptosis
Ectropion/Entropion
Eyelid cancer
Tearing
Orbital fracture
Orbital tumors
Thyroid eye disease
Blepharospasm & hemifacial spasm
Cosmetic eyelid and eyebrow surgery
Cosmetic botox
Cosmetic fillers
Research Interests:
Dr. Hodgson has authored numerous book chapters and peer-reviewed publications in the field's top medical journals. Her research interests include thyroid eye disease, orbital trauma and tumors, and surgical outcomes.
Education:
Undergraduate: University of California, San Diego with honors, Phi Beta Kappa
Master's of Advanced Studies in Clinical Research: University of California, San Diego
Medical School: University of California, San Diego
Ophthalmology Residency: University of California, San Diego Shiley Eye Institute
Oculoplastic Surgery Fellowship: Johns Hopkins University Wilmer Eye Institute
https://pubmed.ncbi.nlm.nih.gov/?term=nickisa+hodgson
Selected Publications:
Hodgson N, Rajaii F. Current Understanding of the Progression and Management of Thyroid Associated Orbitopathy: A Systematic Review. Ophthalmol Ther. 2020 Mar;9(1):21-33.
Zhao J, Hodgson N, Chang JR, Campbell AA, McCulley TJ. Thyroid Eye Disease-Related Epiblepharon: A comparative Case Study. Asia Pac J Ophthalmol. 2020 Jan-Feb;9(1):44-47.
Hodgson N, Kinori, M, Goldbaum MH, Robbins S. Ophthalmic Manifestations of Tuberous Sclerosis: a review. Clin Exp Ophthalmology. 2017 Jan;45(1):81-86
Hodgson N, Bratton E, Whipple K, Priel A, O SR, Fante RG, Kikkawa DO, Korn BS. Outcomes of endonasal dacryocystorhinostomy without mucosal flap preservation. Ophthal Plast Reconstr Surg. 2014 Jan-Feb;30(1):24.7.