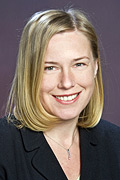 Ewa Koziorynska, MD

Department of Neurology
Epilepsy Center, Sleep Disorders Center
Dr. Ewa Koziorynska is board-certified in both Neurology and Sleep Medicine. In addition to her work with the Sleep Disorders Center, she also works with patients in the Comprehensive Epilepsy Center at University Hospital of Brooklyn.
Dr. Ewa Koziorynska joined the Comprehensive Epilepsy Center at SUNY Downstate in 2008. She graduated from Pomeranian Medical University in Poland. After her Neurology Residency at UMDNJ in New Jersey she completed a two year fellowship in Epilepsy at Yale University. Prior to joining the faculty at SUNY Downstate, Dr. Koziorynska was an Assistant Professor of Neurology at the Comprehensive Epilepsy Center at New York University. She is board certified in Neurology, Clinical Neurophysiology and Sleep Medicine.
Dr. Koziorynska's main areas of clinical interest include the comprehensive management of patients with epilepsy, EEG, Video-EEG monitoring, intra-operative monitoring and Sleep Disorders.
Dr. Koziorynska is fluent in Polish and Ukrainian.