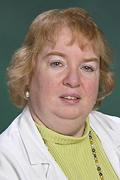 Maryanne F. Laffin, RN, FNP, CNM, LM, MS, FACNM
Clinical Assistant Professor
Midwifery Program
Education:
MS in Science, Pace University
Certificate in Midwifery, SUNY Downstate.
"I believe every midwife must be an advocate for her clients and her/his profession. To be a midwife is an honor we must protect."
Academic Responsibilities:
Course coordination of Physical Assessment of Women Clinical & Didactic, Pathophysiology of Acute & Chronic Conditions in Women & Their Primary Care, Well Woman Gynecology Clinical & Didactic, Clinical Practicum in Primary Care and Obstetrical Complications of Pregnancy.
Experience:
MaryAnne Laffin has been involved in women's health care for over 40 years: first as a Family Nurse Practitioner, then as a Certified Nurse-Midwife. She has been a student preceptor for numerous midwifery and nurse practitioner programs. She has presented on many health issues for women and children and is a strong advocate for perinatal issues.
Contributions to the Profession:
MaryAnne is very active in women's health issues on the local, state and national level. She is a founding board member of the New York State Association of Licensed Midwives (NYSALM) — one of the first state organizations for midwives in the United States. She is a Past-President for this organization and is currently serving as Vice President.
MaryAnne is an active member of American College of Nurse-Midwives (ACNM), and the New York State Affiliate serving as a past president and vice president of the Long Island Midwives. She is also involved in other important women's health care organizations: an Emeritus board member and past president of the National Perinatal Association (NPA), of which she has co-authored numerous Position Papers –the most recent being "Position Statement on Migrant Families. MaryAnne is also a past board member of New York State Perinatal Association (NYSPA).
She co-authored "Policy, Politics, Legislation and Community Health Nursing" in Community /Public Health Nursing: Promoting the Health of Populations.
MaryAnne is a member of the ACNM Fellowship and a recipient of the "Distinguished Alumni Award" of the SUNY/Downstate. She recently was honored with CHRP's Donald Scherl Faculty Excellence Award.
She is a participant of numerous state and federal committees, including:
NYS Department of Health Redesign Team for Maternity Care
National Perinatal Association Advocacy and Nomination Committee
NYS Association of Licensed Midwives Finance and Bylaw Committee
NEMC: New England Midwifery Consortium
ECCME: East Coast Committee for Midwifery Exam
MaryAnne is involved in ongoing research with the Department of Family Medicine on Integration of doula care skills in a Family Medicine Residency procedure clinic. She is also involved in research on preceptor needs with the Clinical Coordinator Committee at SOHP.