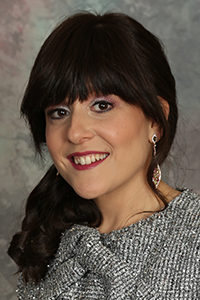 Rivka Hellmann, MS, RDMS, RDCS, RVT
Clinical Associate Professor and Clinical Coordinator
Diagnostic Medical Imaging
Rivka Hellmann, MS, RDMS, RDCS, RVT is a graduate of SUNY Downstate Health Science University School of Health Profession's Diagnostic Medical Imaging/Sonography Program in Brooklyn, NY, Class of 2001. Immediately after graduating, she began her sonography career and gained experience in all aspects of sonography. Eventually, she was asked to join the faculty at her alma mater and now lectures in OB/Gyn, pediatric sonography, as well as medical ethics, as a Clinical Associate Professor. She also places approximately 50 students at their clinical rotations each semester in her other role as Clinical Coordinator of the Program, and serves as a part-time lab assistant in the program sonography scan lab. Rivka earned her Master's Degree in Medical Informatics from SUNY Downstate Health Sciences University and combined her enchantment with healthcare with her fascination of computers. She received the Dean's Outstanding College Contributor Award and the Award for Clinical Excellence, both from SUNY Downstate.
Rivka is currently registered in abdomen, OB/Gyn and adult cardiac sonography, and is pursuing additional credentials. She holds membership with the Americal Registry of Diagnostic Medical Sonographers and the Society of Diagnostic Medical Sonography. She has also recently been inducted into the Lambda Nu national honor society for the radiologic and imaging sciences.
Rivka advises students in their research and has collaborated with several sonography departments at SUNY Downstate and Kings County Hospital. Her most current research endeavors include placental location and its effects on maternal and neonatal outcomes, as well as predisposing factors of fibroids in the African American population. She is the author of Let's Measure the Liver Better: Assessing Inter-Rater Reliability When Measuring the Liver Volume Using Sonography, scheduled to be published in the Journal of Diagnostic Medical Sonography in early 2022. Additionally, she co-authored Collaborative Peer to Peer Learning for Shoulder Ultrasound and Anatomy (Journal of Interprofessional Education & Practice. 2019; 14:39-42). She has also presented several abstracts to the American Institute of Ultrasound in Medicine and created/presented webinars for the Society of Diagnostic Medical Sonography and Ultrasound Solutions Corp. While she works full-time, she also loves spending time with her husband and their four beautiful children.