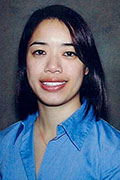 Lillian Chow, MD
Clinical Assistant Professor / Hospitalist
Department Name
Education and Training:
Rutgers, the State University of New Jersey, School of Engineering,New Brunswick, NJ – BS, 2004
UMDNJ, Robert Wood Johnson Medical School, Piscataway, NJ – MD, 2008
SUNY Downstate Medical Center, Internal Medicine Residency – 2008-2011
SUNY Downstate Medical Center, Pulmonary and Critical Care Medicine Fellowship – 2012-2015
Career / Research Interests:
After graduating from UMDNJ in 2008, Dr. Chow completed her internal medicine residency at SUNY Downstate Medical Center. In the interim between residency and fellowship, she worked as a hospitalist in North Carolina, where she learned to appreciate the need for specialists who integrated a multidisciplinary approach of patient care at all levels. Dr. Chow returned to complete her pulmonary and critical care fellowship training and has subsequently joined the faculty at SUNY Downstate Medical Center after graduating. She is embarking on her career path with a goal to provide exceptional care in pulmonary and critical care diseases for a community that has long had an unmet need. Dr. Chow also, enthusiastically, gives time to help with the educational experience of the medical students, PA students, and house staff of SUNY Downstate Medical Center to help train the next generation of healthcare workers.
Dr. Chow brings invaluable clinical and academic experiences that will be instrumental in bringing the Pulmonary and Critical Care Medicine Division at Downstate into the next level of care and services that the community deserves. Dr. Chow's clinical practice is located in Suite A at University Hospital. For appointments, please call 718-270-1821.
Dr. Chow's clinical specialties include: pulmonary diseases - COPD/emphysema, asthma, pulmonary hypertension, sarcoidosis, fiberoptic bronchoscopy.