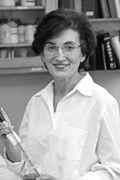 Olcay Batuman, MD
Professor of Medicine and Cell Biology
Department of Medicine, Division of Hematology
Department of Cell Biology
Multiple Myeloma Research at SUNY Downstate Medical Center
Our Research Focus: Genome-wide comparison of endothelial cells and tumor cells in patients with multiple myeloma, the second most common hematologic malignancy in the US. Ongoing studies also focus on the elucidation and characterization of multiple myeloma progenitor/stem cells, with the aim of targeting this population for improved patient survival.
Funding
SUNY Downstate Vascular Stem Cell Genome Consortium (11/1/08 - 4/30/10)
New York State Stem Cell Initiative
MBCCOP CA-114671 (9/1/07 - 5/31/10)
SUNY Downstate Medical Center Minority-Based Community Clinical Oncology Program
Graduate Students
Sadeaqua Scott, Ph.D. Graduate Student, Molecular and Cell Biology — 2006-Present
Dr. Marc Braunstein, M.D. - Ph.D. Program — 2004-2009
Ph.D. Thesis: Vascular progenitor cells in multiple myeloma: Genomic characterization and clinical significance
Dr. Orhan Akman, Molecular and Cell Biology — 1998-2002
Ph.D. Thesis: Response to hypoxia involves Smad proteins in human endothelial cells
Genomic data
On this site you will find raw genomic data (Affymetrix gene expression and Agilent comparative genomic hybridization microarray data) analyzed for the manuscript entitled, "Genome-wide profiling of endothelial progenitor cells in multiple myeloma: disease-relevant pathways and tumor endothelial markers." The files are WinZip compressed. If you do not already have WinZip installed, the free version of it is available at http://www.winzip.com.
Agilent Human Genome Array Comparative Genomic Hybridization (aCGH) Microarray - 988MB: .txt files for paired bone marrow endothelial progenitor cell and tumor cell samples from 16 newly-diagnosed myeloma patients.
Affymetrix GeneChip U133 Plus 2.0 microarrays - 147MB: .cel files for bone marrow endothelial progenitor cells from 20 newly-diagnosed myeloma patients, and corresponding tumor cell data from 10 of these patients.
Zhang H, Akman HO, Smith ELP, Zhao, J, Murphy-Ulrich JE, Siddiqui MAQ, and Batuman OA. Cellular response to hypoxia involves signaling via Smad proteins. Blood 101:2253-2260, 2003.
Zhang H, Vakil V, Smith ELP, Chen L, Braunstein M, Maroney J, Dai K, Berenson JR, Hussein M, Özçelik T, Norin AJ, Akman HO, Klueppelberg U, and Batuman OA. Circulating endothelial progenitor cells in multiple myeloma: Implications and significance. Blood 105:3286-94, 2005.
Braunstein M, Özçelik T, Bag?slar S, Vakil V, Smith ELP, Akyerli CB, and Batuman OA. Endothelial progenitor cells display clonal restriction in multiple myeloma. BMC Cancer 6:161-171, 2006.
Doñate F, Juarez J, Burnett M, Manuia M, Xiaojun G, Shaw D, Smith E, Timucin C, Braunstein M, Batuman O, and Mazar A. Identification of biomarkers for the anti-angiogenic and anti-tumor activity of the superoxide dismutase 1 (SOD1) inhibitor tetrathiomolybdate (ATN-224). Br J Cancer 98:776-83, 2008.
Braunstein M, Campagne F, Mukherjee P, Scott S, Carrasco D, Anderson KC, and Batuman OA. Genome-wide profiling of endothelial progenitor cells in multiple myeloma: Disease-relevant pathways and overlaps with common cancer biomarkers. (Under review)
Braunstein M, Liu N, Klueppelberg U, Behrman S, Walter P, Wipf P, Brodsky J, and Batuman O. Differential effects of Hsp70 inhibition within the tumor and microenvironment in multiple myeloma. (Under review)