Downstate Commencement 2022
SUNY Downstate Health Sciences University proudly conferred degrees to more than 900 graduates of its five colleges and schools at Commencement last Thursday.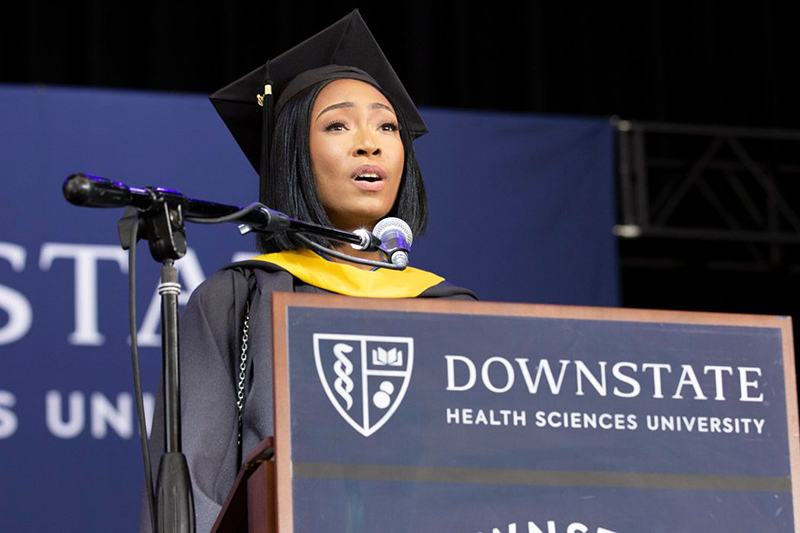 I was honored to preside over the morning ceremonies joined by Jeffrey S. Putman, Ed.D., Academic & Student Affairs vice president, who also delivered a message on behalf of Lori A. Escallier, Ph.D., dean of the College of Nursing. Allen N. Lewis, Ph.D., CRC, dean of the School of Health Professions, ceremoniously swore in graduates from the School of Health Professions and the College of Nursing, respectively.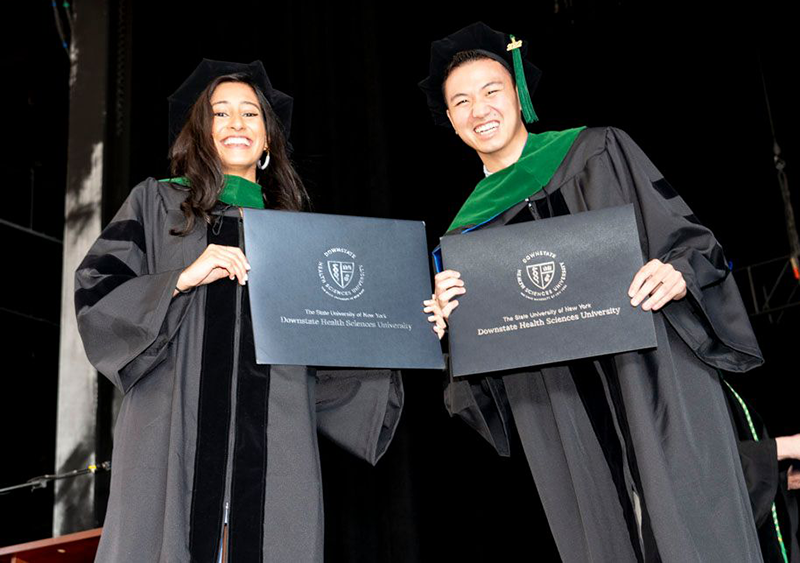 For the afternoon ceremonies, I was joined by F. Charles Brunicardi, M.D., FACS, dean of the College of Medicine, Kitaw Demissie, M.D., Ph.D., dean of the School of Public Health, and Mark G. Stewart, M.D., Ph.D., dean of the School of Graduate Studies, who will step down as dean at the end of June. 
I was proud to be joined by Christianne Salac, DPT and Mark Schwartz, DNP members of the Class of 2022 both of whom earned their doctoral degrees and delivered remarks on behalf of their graduating classes.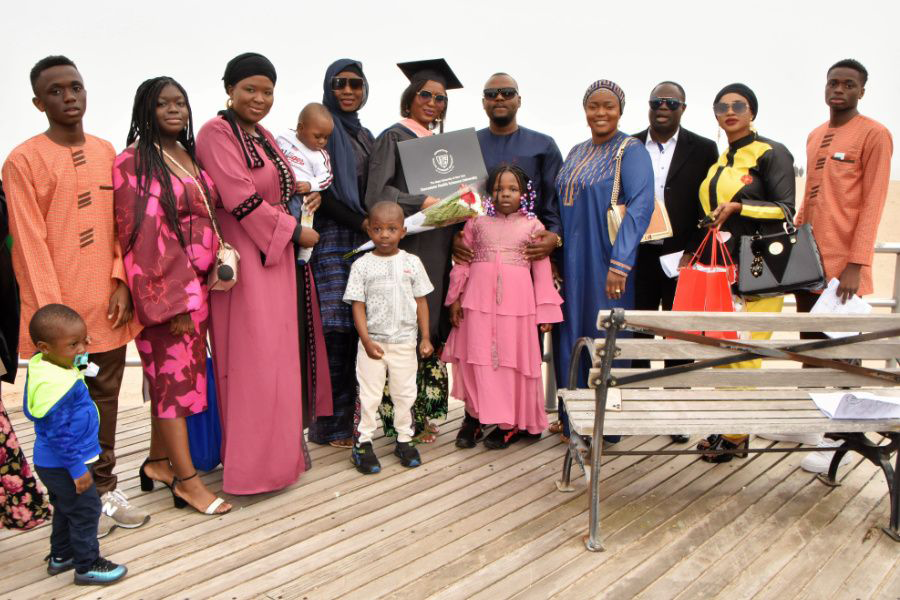 Honorary Doctor of Science degrees for 2022 were also conferred to Linda Ann Clayton, M.D., MPH, and Michael Osterholm, Ph.D., MPH.
Linda Ann Clayton, M.D., MPH, was recognized for her outstanding work in public health, impactful focus on health equity, and significant scholarship in health disparities. As a gynecologic oncologist and notable author, Dr. Clayton's career concentrated on academic medicine, health policy, and population health.
Michael Osterholm, Ph.D., MPH, was recognized for his national and global work in public health and his dedication to teaching and mentoring public health researchers. He is an outspoken advocate of developing national emergency preparedness for biological weapon attacks and a leading spokesperson on the public health impact of COVID-19.
Seven Honorary Doctorates were conferred, (five from 2021 and 2020 because of the pandemic. Receiving the Honorary Doctorate of Science from 2021 were Harold P. Freeman, M.D., Ali S. Khan, M.D., MPH, MBA, and M. Monica Sweeney, M.D., MPH, FACP. For the 2020 Honorary Doctorate of Science degree, recipients were Daisy Cruz-Richman, Ph.D., R.N., Eli A. Friedman, M.D., MACP, and John Ruffin, Ph.D. SUNY Board chair emeritus H. Carl McCall, M.Div., DD., DHL, received an Honorary Doctor of Humane Letters. Along with senior vice president and chief academic officer Pascal James Imperato, M.D., MPH&TM, MACP, I had the honor of conferring these degrees.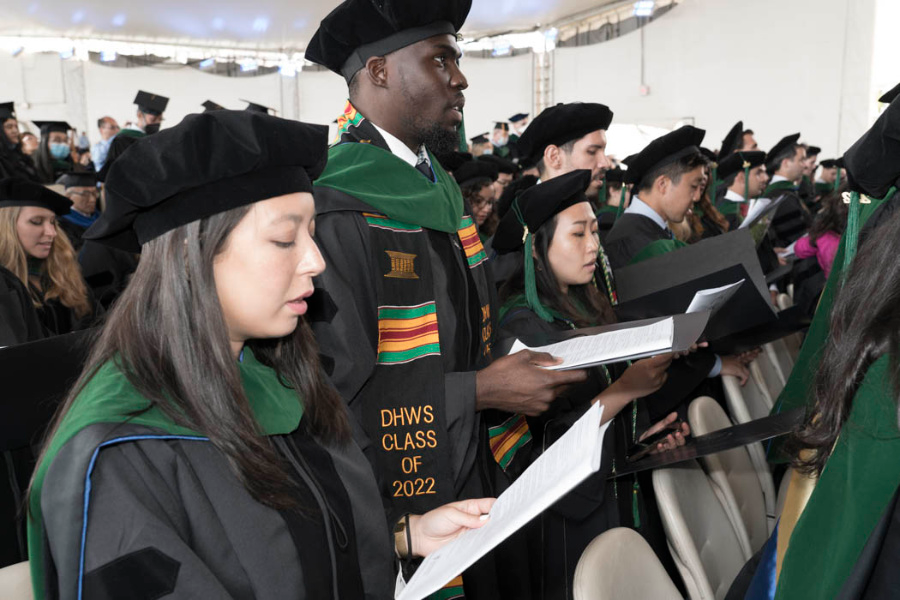 My charge to graduates centered on professional readiness and experiences that Downstate faculty prepared them for. They will create strategies, programs, and policies essential to improving public health, locally, nationally, and globally even as we face challenges of pandemics, climate change, and other events that can impact the delivery of, and access to healthcare.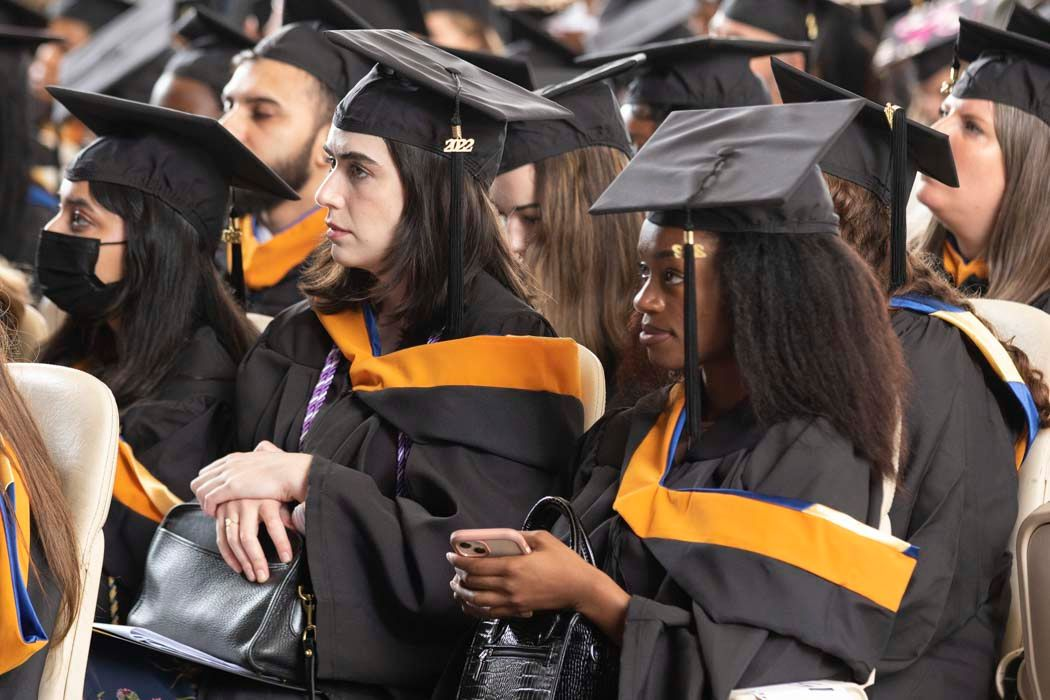 The education received at Downstate have prepared our graduates to spread new knowledge, care for patients, and face challenges of the future. Most importantly, I stressed self-care as an essential element of being in service to others.
I extend my deep gratitude to all who worked hard to create an unforgettable Commencement under the leadership of R. Schuyler Hooke, director of Student Life, and his team of Commencement volunteers. Thanks also to Jeffrey S. Putman, Ed.D., vice president for Academic & Student Affairs, and from the Office of Communications and Marketing Ellen Watson, special projects director, John Zubrovich, New Media Services director, video producers Ustinov Luke and Adesiji Awoyinka, in-house photographer Marcos Lainez, new media specialist Sean Nurse, and graphic designer, Sean Thill, for their efforts at creating a memorable event.
For the second consecutive year, Commencement was held at Brooklyn's Coney Island Amphitheatre; both ceremonies were live-streamed. Commencement pictures and videos can be seen here, and a copy of the Commencement Program is available here.
Congratulations to the Class of 2022!
View Commencement Livestream and Photo Galleries