The Inaugural Joel S. Levine Health Policy Lecture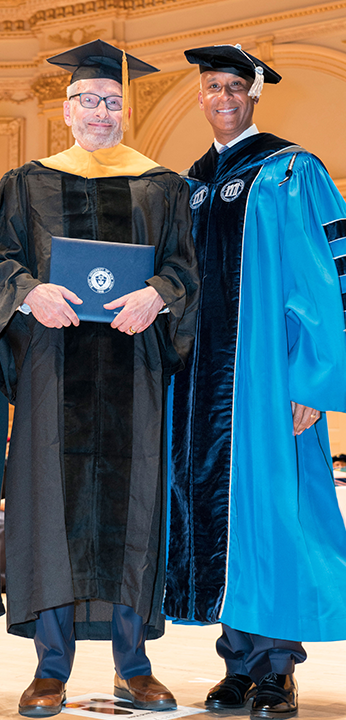 It was my great honor to host the inaugural Joel S. Levine Health Policy Lecture at Downstate. This was the first of the annual lectureship and was launched with Dr. Levine's niece, Mandy Cohen, M.D., MPH as its inaugural speaker. Dr. Cohen is the Executive Vice President and Chief Executive Officer of Aledade Care Solutions and former Secretary of the North Carolina Department of Health and Human Services.
As a 1971 graduate of Downstate's College of Medicine, Dr. Levine spent most of his career in practice and administrative positions at Denver Health and the University of Colorado School of Medicine. He also served as a Member and Chairman of the Board of Regents for the American College of Physicians (ACP). 
I first met Dr. Levine in 1994 when as a young internal medicine resident at Baylor College of Medicine, I was elected to the National Resident Council of the ACP. I learned a great deal about the art of medicine from his passion for patient care, serving communities, and simply doing the right thing in healthcare. 
Working with the Obama administration, Dr. Levine played a pivotal role in the campaign for national healthcare reform. A number of his recommendations became pillars of the Affordable Care Act, including universal access to affordable coverage and federal policy that supported patient-centered healthcare.  
I had the privilege of awarding Dr. Levine an honorary Doctor of Science degree in 2019 in recognition of his outstanding service to the United States and his vision of a healthcare system that would provide insurance coverage to all Americans.   
Because he was such a strong supporter of Downstate, prior to his death, Dr. Levine generously offered to endow a visiting lectureship at Downstate focused on expanding access to care for the underserved, health policy, and increasing physician diversity. 
I have never forgotten his friendship as a young physician. He was a consistent and a great person who cared deeply about the impact and importance of healthcare for communities with the greatest need.
I look forward to nurturing this project and ensuring that future Dr. Joel S. Levine lectures are appropriately befitting of his legacy.
To listen to Dr. Cohen's address, "Leading with Equity through the COVID Crisis," click here.