Spotlight on Surgery Resident Physician & Research Fellow Jodi-Ann Edwards, M.D., PGY2 RY3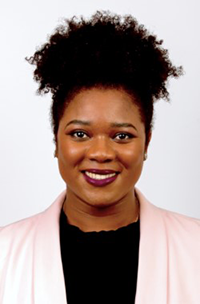 General Surgery resident and MPH student Jodi-Ann Edwards, M.D., is a mother, community advocate, mentor, volunteer, first-generation immigrant, and self-described Brooklyn indoor gardener pursuing a career in academic surgery.
Compassionate and empathetic, she combines scholarship with service to our medical students, patients, and the community while advancing the principles of diversity, inclusion, and equity (DEI).
Born in Jamaica and raised in South Florida, Dr. Edwards joined Downstate as a categorical General Surgery resident in 2017 after receiving her medical degree from the Florida Atlantic University (FAU) Charles E. Schmidt College of Medicine. Dr. Edwards completed two clinical years and decided to pursue research.
She is currently completing her third dedicated research year as a Department of Surgery Laboratory research fellow. Under the mentorship of assistant professor of Surgery Chongmin Huan, M.D., Ph.D., her basic science research focuses on the molecular biology of acute pancreatitis. In addition, as a member of Surgery's Research Group, she is involved in clinical research focused on surgical disease outcomes, quality improvement, and healthcare disparities.
Dr. Edwards believes that physician workforce diversity is key to enhancing the quality of medical education and improving overall patient care. She credits Downstate leaders such as College of Medicine dean F. Charles Brunicardi, M.D., FACS, and associate dean for Graduate Medical Education and Affiliations Teresa Y. Smith, M.D., MSEd, for providing opportunities to represent Downstate. She also serves as the Department of Surgery's representative for Diversity, Inclusion, and Equity initiatives in Undergraduate and Graduate Medical Education committees. As part of this commitment, Dr. Edwards intends to increase DEI and improve the learning environment within her specialty.
Dr. Edwards is a 2021 Diversity in National Medical Fellowship (NMF) Clinical Trials Research Emerging Investigator Awardee and a member of the Alpha Omega Alpha medical honor society. In addition, she is a volunteer with Downstate's Health Professions Recruitment Exposure Program (HPREP) and with YoungLives Manhattan, a nonprofit organization dedicated to empowering young mothers and expecting mothers.
Dr. Edwards is a peer reviewer for the Annals of Surgery Open Access, has research publications and commentaries on health equity and social determinants of health, and is a contributor to Schwartz's Principles of Surgery Textbook Questions & Answers 11th Edition with Dean Brunicardi, and associate professor of Surgery Lisa Dresner, M.D.
Along with her fellow residents and fellows, Dr. Edwards was awarded Downstate's Certificate of Courage in 2020 for her work during the pandemic. In addition, she will receive the FAU Hall of Fame and Schmidt College of Medicine Distinguished Alumni Award from her alma mater in May. Read about SEED, a pipeline program developed by Dr. Edwards in her paper here, and about her, in a tribute to her grandparents.