New Student Health Center and Student Counseling Center Open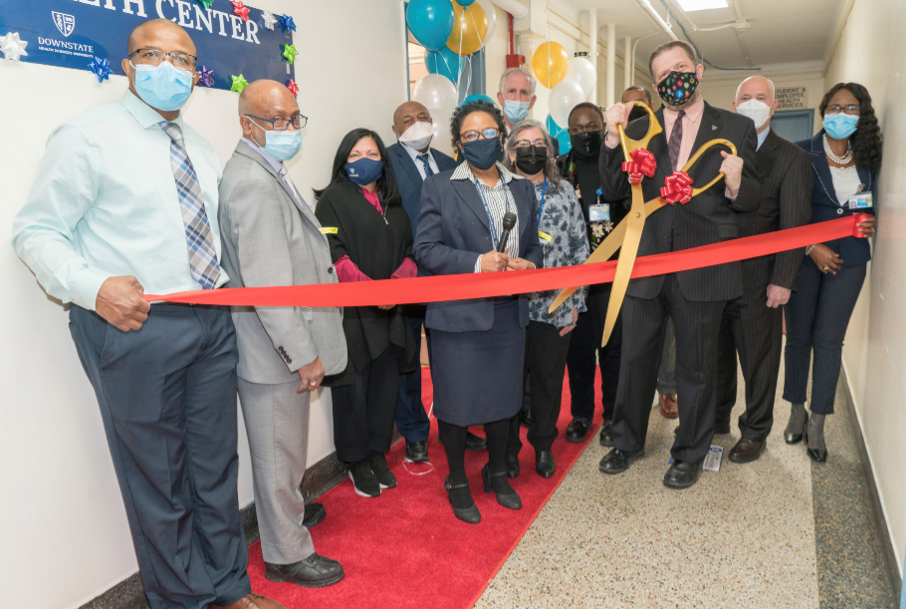 I am proud to announce that we are making significant improvements to support our students' physical and mental health and wellness. Last week, a new Student Health Center and a refurbished Student Counseling Center were opened with a ribbon-cutting.
The new Student Health Center has new examination rooms and a separate waiting room. Additional clinical and service staff are dedicated to students, including a new Nurse Practitioner and a new Student Coordinator to support the student operation and the student clearance process. This new location is at 440 Lenox Road, Suite 1W.
The Student Health Center will continue to be led by Mona Pervil-Ulysse, M.D., and has the support of Student and Employee Health Service. Additionally, the Student Health Electronic Medical Record, known as Medicat, will also be implemented. Students can already log in to the system through myDownstate.
Once the Student Health Center is fully open, students will be able to do check-in using the system; make appointments with clinicians; conduct virtual visits with Student Health clinicians; see lab results and view notes from student health visits; contact Student Health clinicians with health-related questions; and view and print immunizations and other data from the Student Health Record without needing to visit the Student Health Center in-person.
We are also proud to re-open the Student Counseling Center for in-person visits. Led by Maria Deutscher, Ph.D., the Center will continue to provide remote visits while making in-person appointments available. We are also in the process of refreshing the Student Counseling Center with new, more attractive, and comfortable furniture. The Student Counseling Center is located at 440 Lenox Road, Suite 1M.
The Center will also move to the Medicat Counseling Electronic Health Record system (separate from the Medicat Student Health record). Once implemented, the Medicat Counseling system will allow students to make appointments directly by selecting available times and electronically completing their intake documentation. To make an appointment with the Counseling Center, email them at counseling@downstate.edu.
Thank you to the College of Medicine team, including COM senior associate dean Elizabeth Smith, College of Medicine administrator Helen Poncet, Academic & Student Affairs staff administrator, Susan Vaughn, as well as General Counsel Lynne Reid-McQueen, Medicat, senior vice president and chief of staff Keydron K. Guinn, Ph.D., chief financial officer Richard Miller, Ph.D., and to Deans Brunicardi, Demissie, Escallier, Imperato, Lewis, and Stewart for their unwavering support in this critical space that is so important for our students.