Featured Stories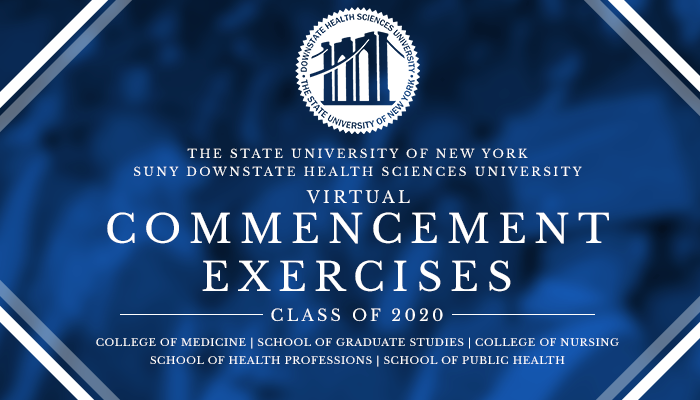 2020 Virtual Commencement  Ceremonies
Commencement planning is a highly anticipated, momentous time for our students, their families, and for all of us at Downstate. It represents personal evolution, growth and new beginnings for our graduates as they move on to next steps in their careers, education, and in their lives. As the coronavirus pandemic changed so much about how we live and interact, commencement planning took on a different kind of anticipation, and Downstate geared-up for safe and socially-distanced commencement exercises—while making certain we properly honored and celebrated our exemplary scholars.
On May 20, we hosted our Virtual 2020 Commencement Exercises. During the ceremony, we recognized the achievements of our 700 graduates from the College of Medicine, the College of Nursing, the School of Public Health, the School of Health Professions, and the School of Graduate Studies.
The Class of 2020 had their degrees conferred by University leadership in a virtual, live-streamed ceremony that premiered on YouTube. Despite the unconventional nature of our 2020 celebration, the event was not void of sincere joy, pride, and inspiration, as the emotions of our Class of 2020 graduates could, quite-literally, be felt in the virtual air. More than 2000 people joined online and shared congratulatory notes and words of encouragement in the real-time chat.
New York State Department of Health Commissioner Howard Zucker, M.D., J.D., delivered a meaningful and timely message in his commencement address just before our graduates were announced by Les Trent, Senior Correspondent for CBS's Inside Edition.
The College of Medicine conferred 195 M.D. degrees; the School of Graduate Studies conferred 10 Doctor of Philosophy degrees; the School of Public Health conferred 27 Advanced certificates in Public Health, 67 Master of Public Health degrees, and 13 Doctor of Public Health degrees; the College of Nursing conferred 118 Bachelor of Science degrees, 112 Master of Science degrees, and six Advanced Certificates; and finally, the School of Health Professions conferred 18 Bachelor of Science degrees; two Advanced Certificates, 112 Master of Science degrees, and 20 Doctor of Physical Therapy degrees.
In addition to our 2020 graduates, Downstate recognized the work of four very prominent and influential figures who have helped to expand the reach and recognition of health care nationally and internationally.
Our 2020 cohort of Honorary Degree recipients include: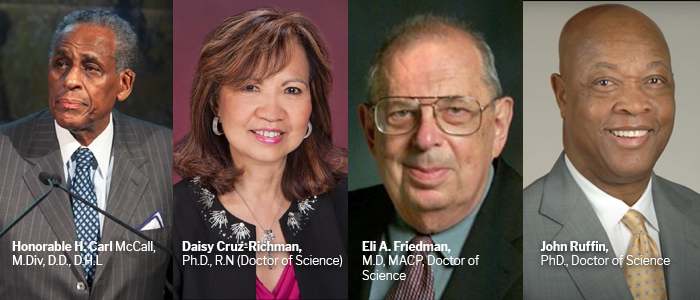 The Honorable H. Carl McCall, M.Div, D.D. (Doctor of Humane Letters)— Chairman Emeritus of The State University of New York Board of Trustees, former New York State Comptroller, Ambassador to the United Nations, Commissioner of the Port Authority of New York and New Jersey, Commissioner of the New York State Division of Civil Rights, and a three-term New York State Senator.
Daisy Cruz-Richman, Ph.D., R.N (Doctor of Science)— Dean Emeritus of Downstate's College of Nursing and a founding member of the "New Careers in Nursing" scholarship program of the Robert Wood Johnson Foundation.
Eli A. Friedman, M.D., MACP (Doctor of Science)— A 1957 Downstate College of Medicine Alum and a renowned physician in the field of nephrology and kidney dialysis.
and John Ruffin, Ph.D. (Doctor of Science)— National Institutes of Health Director of the Office of Minority Programs, and the Founding Director of the National Institute on Minority Health and Health Disparities (NIMHD) who is credited with recognizing health disparities as a scientific discipline.
The virtual event captured the passion, work ethic, and great sacrifices made by of our graduates to become physicians, nurses, public health experts, and advanced healthcare professionals of tomorrow. Though we had to safely celebrate our scholars in a unique way this year, our 2020 graduates will be welcomed back in 2021 to collectively participate in Downstate's traditional, in-person Commencement Ceremony.
CONGRATULATIONS to the Class of 2020! You have certainly made us #DownstatePROUD.
Downstate — Leading on the Frontlines of COVID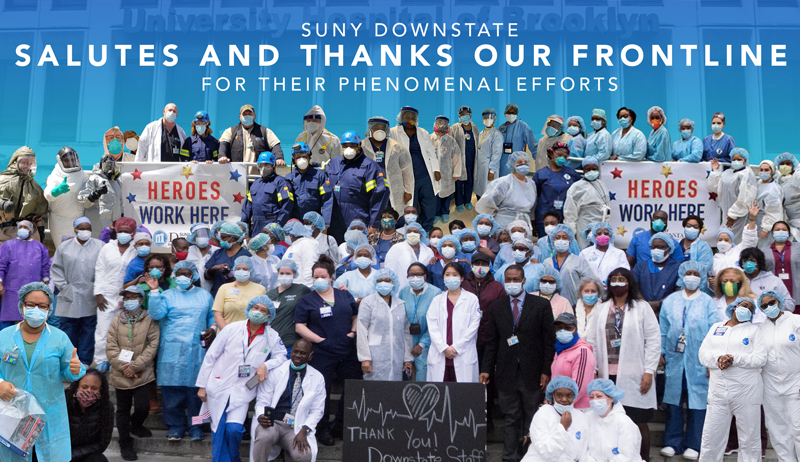 In the months since public health experts at the Centers for Disease Control and Prevention publicly confirmed the first coronavirus case in the United States, a global health crisis erupted that continues to test our collective resolve beyond imagination. Since then, there have been more than 104,000 COVID-related deaths and nearly 2 million confirmed cases across the country.
As we begin emerging from stay-at-home orders across the country, our lives will now be defined by a "new normal".  At Downstate, we continue to closely monitor what we know about the virus, and with safety and caution, plan for the days ahead. Here's a look back at how Downstate has responded to this global health pandemic.
As soon as the first case in New York City was confirmed, I assembled a Coronavirus Preparedness Task Force—appointing College of Medicine Dean F. Charles Brunicardi, M.D., as its Chair—to monitor developments and updates, share information, news, and expert advice with the Downstate Community. The Task Force, consisting of clinical care management and academic programming workgroups, includes leadership from both our clinical and educational enterprises of the institution, as well as medical and public health personnel with expertise in infectious diseases and experts from our Emergency Preparedness team, led by Bonnie Arquilla, DO, FACEP. We greatly appreciate the work of the Coronavirus Preparedness Task Force.
On March 28th, Downstate answered Governor Andrew M. Cuomo's call to prepare our University Hospital of Brooklyn (UHB) as a COVID-19 only facility. In short order, Downstate leadership across UHB worked closely with affiliate clinics and hospitals to transfer patients and continue the highest level of care that our patients, their families, and the community expect. Since the onset of the virus and after Governor Cuomo's directive, Downstate's dedicated people continue to aggressively confront this unfamiliar enemy. Our phenomenal medical, nursing, respiratory therapy, environmental services, and other professional staff in UHB are actively answering the call of duty, working tirelessly on the frontlines to care for our patients.
Downstate also announced that it was joining the Mayo Clinic's Convalescent Plasma Trial to participate in a national project using convalescent plasma, a treatment based on the function of antibodies created by the immune system to fight the virus, as a potential therapy for hospitalized COVID-19 patients.
Most recently, we established a dedicated outpatient clinic for the ongoing care of COVID-19 patients we discharged so they can receive the necessary transition of care as they recover—a critical component in Downstate's coronavirus response as the vast majority of our patients had multiple comorbidities.
I am very proud of our frontlines workers who, in their individual capacities and work responsibilities, played significant roles and continue to serve and care for our patients. Our physicians bravely answered the call-of-duty in record-numbers, joining the millions of medical, healthcare, and other public health professionals globally fighting on the frontlines against COVID-19.
UHB has discharged more than 700 COVID-19 patients, returning them home to their loved ones. The collective sacrifice, discipline, humanity, and impassioned response from our Downstate heroes continues to transform our community.
Though the peak of the pandemic seems to have passed us as a community, we must remain vigilant to overcome great obstacles ahead, and we must continue to do so together in the name of the health and vitality of the communities we serve and protect.
THANK YOU to all of our frontline heroes for your enormous sacrifices, and for putting your duty and the needs of mankind above all else. Because of you, our beloved institution remains a source of light and beacon of equity for all. Because of you, we will continue being Downstate STRONG.