Featured Stories
Downstate Hosts SUNY Board of Trustees Winter Meeting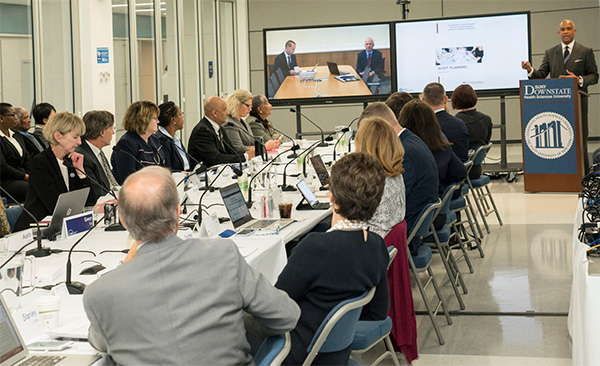 Last week, Our campus was the venue for SUNY Board of Trustees regularly scheduled winter meeting on January 28th. This was the first Board of Trustees meeting in nearly a decade that SUNY Downstate has hosted.
The meeting, led by the newly-appointed Chairman of the Board, The Honorable Merryl H. Tisch, Ed.D. and SUNY Chancellor Kristina M. Johnson, Ph.D., was followed by an early breakfast for members of the Board, a chance to meet and greet SUNY Downstate staff, and then they were off for a tour of University Hospital of Brooklyn.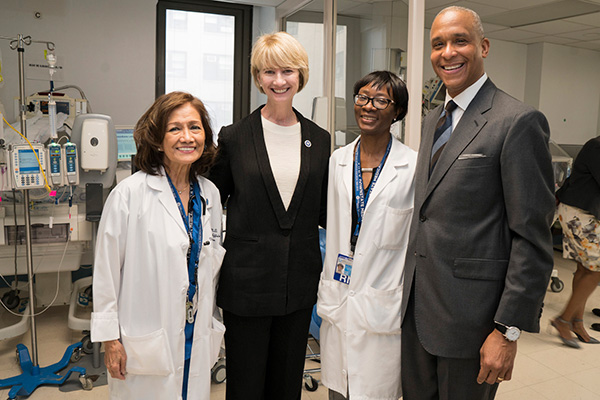 Later in the day, with the assistance of Interim SVP of Hospital Affairs, Patricia Winston, M.S., R.N. I took members of the Board and SUNY Administration on a tour of the hospital. Also joining us on the tour was the new Dean in the College of Medicine, Charles Brunicardi, M.D., Chief Medical Officer, Michael Lucchesi, M.D., Associate Chief Medical Officer/Chief Quality Officer, Rami Nakeshbandi, M.D., as well as Chief Nursing Officer, Joanne Ritter-Teitel, Ph.D.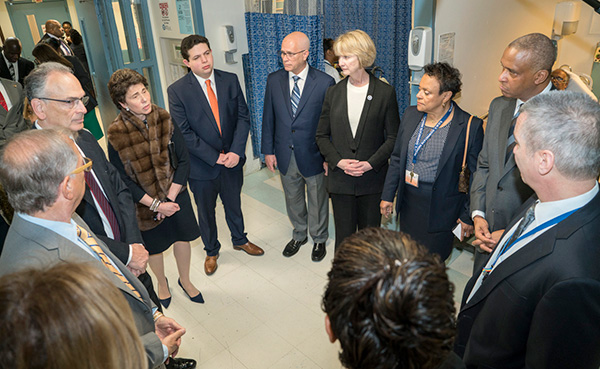 As we passed through the hospital, I discussed our plans for renovation and the expansion of the cafeteria, followed by a walkthrough of the Emergency Department where Ninfa Mehta, M.D. described some of the emergency treatment routines. The group also visited Suite B, where they were greeted by Department of Family Medicine faculty member, Anita Beecham-Robinson, M.D., for a behind-the-scenes look at what takes place. The final leg of the tour ended with visits to the newly renovated Pediatric Intensive Care Unit (PICU) and in the Neonatal Intensive Care Unit (NICU) where Gloria Valencia, M.D., Vice Chair of Pediatrics and Director of Neonatology, gave a heartfelt testament on the importance of neonatal care.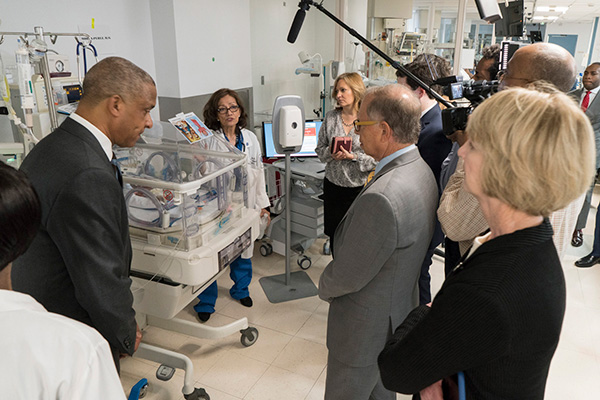 During the board meeting, I shared a presentation on the State of Downstate Health Sciences University, as well as one on the Taskforce for Student Mental Health, a taskforce I'm honored to co-chair.
I'd like to thank the members of the SUNY Board of Trustees for choosing to convene this important meeting at Downstate, and to our faculty and staff who worked so hard to prepare our campus for a seamless event. 
Memory Lane: Remembering the Legacy of Dr. Samuel L. Kountz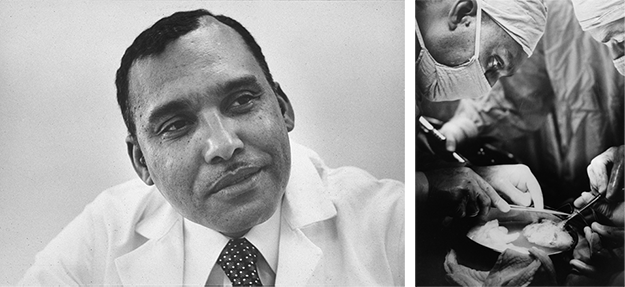 In honor of Black History Month, I'd like us all to remember the life and work of a man who not only added to the legacy of Downstate, but who will go down in history as a medical pioneer—world renowned surgeon, Samuel L. Kountz, M.D.
Born in 1930, Dr. Kountz was raised in the small town of Lexa, Arkansas. At the age of eight, he accompanied an ill friend to the local emergency room, where he observed physicians working to heal his friend. It was at this moment that his life's purpose and passion was born, and thereafter his ambitions were squarely pointed at the world of medicine.
With the support of his family, Dr. Kountz began the relentless pursuit of becoming a physician. He first graduated from the Agricultural, Mechanical, and Normal College of Arkansas (AM&N) in 1952 with a Bachelor of Science in Chemistry. Not long after, Dr. Kountz was afforded the rare opportunity to meet J. William Fulbright, US Senator and former president of the University of Arkansas. Senator Fulbright recognized something special in the recent graduate and become an early mentor to Kountz, also encouraging him to apply to medical school at the University of Arkansas.
Taking heed of the Senator's counsel, Kountz applied to the University of Arkansas Medical School at Little Rock, where he gained admission on an academic scholarship.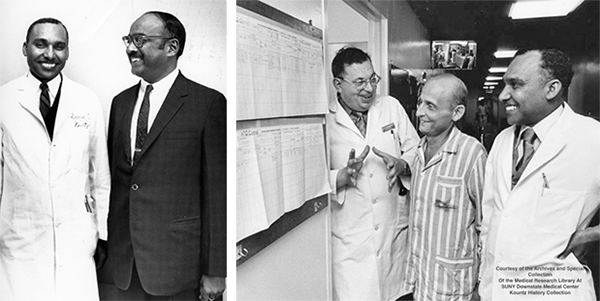 Upon graduating in 1958, during the deep-rooted racial divides and tension of the time, Dr. Kountz continued to overcome cultural and ethnic discrimination though his demonstrated academic and professional success. He interned at San Francisco General Hospital and went on to postdoctoral training as a resident at Stanford University School of Medicine in the Department of Surgery in 1959. During his training, Dr. Kountz was awarded the Bank of America Giannini Fellowship and served as the Senior Resident and Chief Resident in the Department of Surgery at Stanford from 1963-1965.
Throughout his residency, Dr. Kountz chose to focus on surgery, specializing in kidney transplants. Until 1960, kidney transplants were impossible unless the donor and recipient were twins, while transplants between those more distantly related or unrelated ended in the transplant's rejection. However, in 1961, while working with Dr. Roy Cohn at Stanford, he performed the first successful transplant between humans who were not identical twins.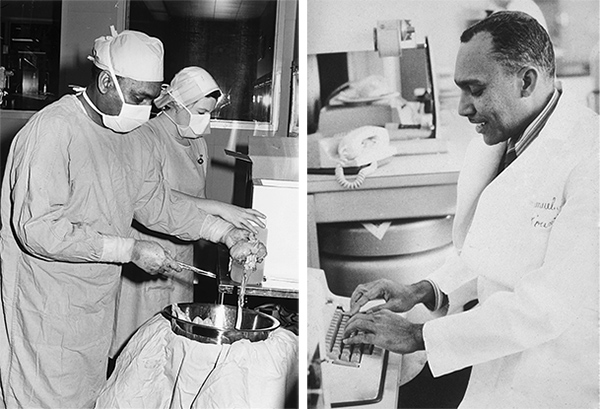 Not long after the completion of his residency program, Dr. Kountz joined the faculty at Stanford University as Assistant Professor in the Department of Surgery at Stanford University, at which time he was selected as a Visiting Fulbright Professor to the United Arab Emirates. In 1967, Dr. Kountz went on to serve as a tenured professor at the University of California School of Medicine in San Francisco (UCSF). For nearly a decade, he unremittingly studied kidney transplants in dogs, making the groundbreaking discovery that in monitoring blood flow into the new kidney and administering methylprednisolone (a steroid) to the patient post-surgery, the body would successfully accept the newly transplanted organ—a breakthrough that forever changed the field of organ transplantation.
Following his time in California, Dr. Kountz travelled across the country to serve as  Professor and Chair of the Department of Surgery here at SUNY Downstate from 1972-1981. In his first year, Dr. Kountz and his team performed over one hundred transplants. 
Downstate quickly earned its place as the busiest kidney transplant program on the eastern seaboard. Dr. Kountz performed a living-donor kidney transplant that was telecast live on a New York NBC newscast.
While at Downstate, Dr. Kountz founded a world-class kidney program — the first and only transplant program, to date, in Brooklyn — and performed some 500 kidney transplants, the most in the world at that time, before his untimely death.
A busy man with inexhaustible energy, leading a huge department of surgery and providing surgical leadership to the region, Dr. Kountz was a sought-after lecturer for Grand Rounds in hospitals, medical schools, (regional and national), and specialty societies. He was invited to share his ideas in many gatherings of allied fields – biomedical, pharmaceutical engineering – and even at the social gatherings of churches or local business clubs.  He served on a study section of the National Institutes of Health and on editorial boards of many prestigious journals. Despite all this, he continued to publish scientific papers and encouraged other colleagues to do the same.
In 1977, during the apartheid regime, he was invited to South Africa as a Visiting Professor. Many of his friends and colleagues advised him not to accept the invitation. He had a completely different perspective. At some early point in his life, he recognized there was little he could do to solve the global problem of racism but decided to live his own life to the fullest and not allow racial barriers to discourage him. He believed that there was much to be gained by engagement. He travelled within South Africa visiting and lecturing in medical schools, the hospitals for whites only, and the hospitals for blacks only. Shortly after his return, however, he felt unwell and complained of frequent incessant headaches. He was mentally and physically impaired by an ill-defined neurologic disorder. After about four years of total incapacitation, Samuel Kountz passed away at the age of 51, on December 23, 1981.
Dr. Kountz's legacy will forever be defined by his enduring contributions to science and medical innovation, and, undoubtedly, by his pioneering advancements to kidney research and renal science.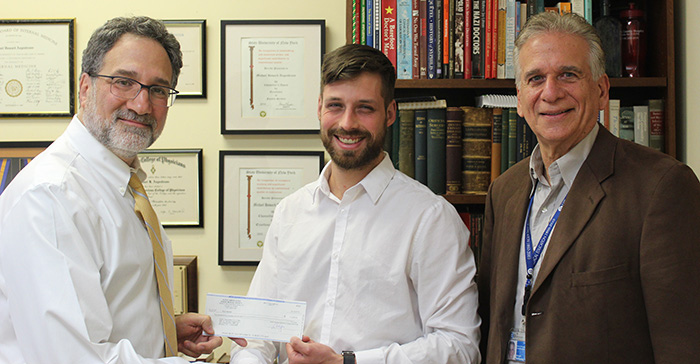 Research is one of the cornerstones of medicine, and as such it remains a critical component to the academic programming and mission of Downstate's College of Medicine.  Since 2002, the Alumni Fund from the COM Alumni Association has annually awarded exceptional medical students the "Full Year Research Scholarship"—a scholarship in support of full-time medical research, which provides up to $36,000 for students to conduct their studies over one full academic year.
To be considered, applicants—who have completed at least one year of matriculation—are asked to summarize their scientific/research experience, career goals, specific research interest, and a detailed description of their intended research project. As the Alumni Association receives a great number of qualified applicants every year, the selection process is managed very carefully, with each application being reviewed and ranked by three specialized researchers from various specialties. Richard Sadovsky, M.D., Professor and Chair of the Department of Family Medicine, presents the results of the review to the Board of Trustees who collectively consider the number of recommended recipients, and then vote on award recipients.
I am pleased to announce Ryan Bender, third-year medical student, has been selected as the recipient of the COM Alumni Association's 2020-2021 Full Year Research Scholarship!
Mr. Bender's application and his project, "Towards Personalized Breast Cancer Care: A Vascularized, Three-Dimensional Biomimetic Platform for Patient Specific, Ex Vivo Studies of Breast Cancer," stood out to the review committee for its ability to greatly advance existing scientific literature. He will soon begin his research-dedicated year, where he will focus on the in vivo construction of biomimetic breast tissue for breast cancer research—conducting his study at the Bioregenerative Medicine and Surgery Laboratory at Weill Cornell Medical College.
WHO IS RYAN BENDER?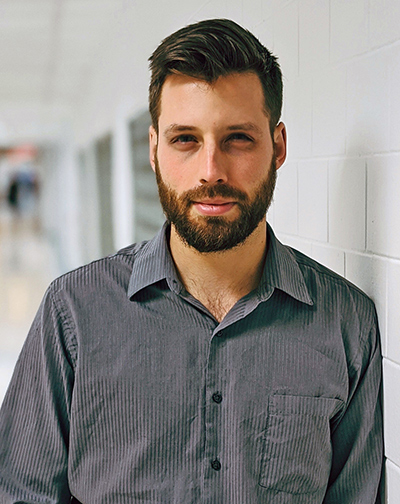 Originally from Rochester, New York, Mr. Bender studied biological and biomedical engineering at Cornell University with emphases on tissue engineering, microfluidics, and computer-assisted engineering. Before starting medical school, Ryan took time to experience the world outside of medicine through extensive travel and roles in the wine industry and hospitality. He moved to New York City where he took a role as a medical assistant role in 2017 and then began his first year of medical school here at Downstate the following year.
In his first semester, Mr. Bender began conducting research in the Laboratory of Bioregenerative Medicine and Surgery at Weill Cornell Medicine. There, he explored new techniques in microvascular tissue engineering, with the eventual goal of developing fully-vascularized tissue for use in reconstructive surgery. He notes that his specific focus in vascular tissue engineering stems from an understanding that microvascular networks are essential for the creation of any tissue of more than nominal thickness. He believes that once microvasculature can be generated on-demand, researchers' ability to construct all tissue types will advance rapidly.
Given his specific interest in rebuilding the human body, Mr. Bender hopes to someday work as a reconstructive plastic surgeon, splitting his time between operative cases, mentoring roles, and oversight of a translational research laboratory. He envisions himself developing new regenerative medicine technologies, namely biomimetic human tissue for in vitro disease modeling and human body repair, and affordable biomedical technologies for use in developing nations.  
CONGRATULATIONS on this well-deserved honor, Mr. Bender—I look forward to following the progress of your work over the coming year.
*Awardees from last year's scholarship cycle and their topics include:
Natasha Masub: Blue Light Photodynamic Therapy as a Modulator of Gene Expression in Squamous Cell Carcinoma
Eric Schoenfeld: Early Life Stress and Serotonin Transporter Gene Polymorphism Interaction: Impact on Hippocampal Volume Asymmetry
Jin Jyun Oh: Outcome Measurements of RHO Retinopathy to Monitor the Efficacy of 'ablate and replace' gene therapy
Nadlie Toussaint: Overcoming Chemo Resistance in Pancreatic Cancers by Blockade of EXTL