The Profession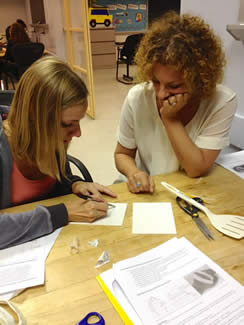 Occupational therapy utilizes self-care, work, and leisure activities to increase independent function, enhance development, promote health, and prevent injury or disability. The term occupation refers to activities that are meaningful to an individual within the environments in which the person lives and functions. Occupational therapists work with individuals whose abilities to cope with the tasks of daily living are threatened or impaired by developmental deficits, injury, illness, or disability.
After identifying which factors interfere with successful task performance, the occupational therapist implements a therapeutic program to improve skills, adapt tasks, and modify the environment to maximize independence and quality of life.
Career Opportunities:
Graduates of an accredited occupational therapy program can expect excellent career opportunities in a variety of settings including hospitals, rehabilitation centers, ambulatory care centers, home health agencies, nursing homes, schools, psychiatric facilities, community agencies, and private practice. Graduates of the SUNY Downstate program are well prepared to work as clinicians, supervisors, administrators, consultants and educators in a wide variety of settings with diverse populations. In addition, the program provides students with knowledge and skills to prepare them for future employment in emerging practice areas such as ergonomic consultation; accessibility design, consultation and home modification; consultation in assisted living facilities; development and consultation related to assistive technology; fall prevention and other wellness programs for community dwelling older adults; sensory modulation for adults with psychiatric and developmental disabilities, and low vision rehabilitation.
For additional information visit the following sites: The American Occupational Therapy Association (AOTA), The New York State Occupational Therapy Association