OT's Walk With NAMI
The Downstate OT program has agreed to house and maintain this community outreach project. We believe in the power of community and advocacy. This is one of our efforts to put these values into action.
Occupational therapy educators, clinicians, and students in New York City join forces with NAMI-NYC Metro, an affiliate of the National Alliance on Mental Illness, to help people walk for recovery, wellness, and an end to the stigma of mental illness.
OT's Walk With NAMI video
Produced by videographers David Doyle and Eileen LaMourie.
The National Alliance on Mental Illness (NAMI) is a non-profit charitable organization whose mission is the eradication of mental illness and improvement in the quality of life for persons of all ages who are affected by mental illness. NAMI provides support, education, and advocacy for persons with mental illness and their families. Each year NAMI holds a walk for the purpose of fundraising and publicizing their mission and services.
OTs Walk With NAMI began with an idea sparked by OT mental health educators Suzanne White, Mary Donohue, and Diane Tewfik. Together with graduate student Eileen LaMourie, they created a protocol that helps OT students and other health professionals establish a 12-session wellness program that culminates in participation at the annual NAMI fundraising walk. The program was initially targeted toward people with mental illness, but transfers well to many other community settings where wellness programs are sponsored.
Supporting Community-Based Mental Health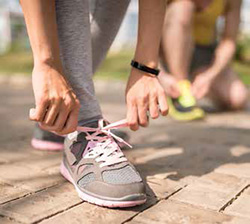 As the changing health care system expands to include more mental health services, occupational therapy is in a great position to promote the profession's role in this area. One way to do that is to create or join a city or statewide project based on the OTs Walk With NAMI (the National Alliance on Mental Illness) project, which was started in New York City by the Metropolitan New York District Mental Health Task Force.
OTs Walk With NAMI is a 12-session wellness curriculum that culminates in participating in the annual NAMI fundraising walk. Although the project began with targeting people with mental illness, it can also be used as a wellness program with other populations.
The OTs Walk With NAMI effort has brought together occupational therapy practitioners and students with consumers, their families, and other health care providers to fight stigma as well as raise awareness about the health needs of those with mental illness, and to raise money for mental health services, public education, and research support.
A number of resources for this project, including journal articles, information, and videos about such topics as the health benefits of walking routines, group protocols for walking groups, etc., can be found on the SUNY Downstate OT Program website at www.downstate.edu/CHRP/ot/nami.html.
If a walk is being organized or already exists, please contact Dr. Emily Raphael-Greenfield at eir12@cumc.columbia.edu. A list of upcoming walks, and information on how to host a walk, can be found at http://namiwalks.org/.
Reposted with permission from OT Practice, The American Occupational Therapy Association, Inc.
The protocol describing the program and all supporting materials may be downloaded from the following list. Some require Adobe Reader and others Microsoft Word.
Protocol

Protocol Goals, Research Support, and Session Activity Plans breakdown. Download »

Wellness Presentations

PDF Presentation - Health and Wellness — Obesity, Metabolic Syndrome, Walking Benefits. Download »

Supporting Materials for Session Activities
Measuring Program Success

OTs Walk With NAMI Pre-Test and Post-Test Questionnaire, Download »

Creating Your Walk Group — Start with these flyers used by the St. Luke's team to create your own.

Flyer Template — Join Our Walking Group. Download »
Flyer Template — NAMI Walk Information Session. Download »
Flyer Template — NAMI Walk Event - Place, Date, & Meeting Time. Download »

Research Papers and Articles
White, S.M., Anderson, A., & Roberts, A. (2013, June). OTs Walk With NAMI: Promoting Community Health and Wellness by Building Alliance and Advocacy. Mental Health Special Interest Section Quarterly, 36(2), 1–3.
The effectiveness of exercise as an intervention in the management of depression: systematic review and meta-regression analysis of randomised controlled trials
AOTA's Road to the Centennial Vision, "Vision in Action" for Mental Health - Walk On. Reposted with permission fromThe American Occupational Therapy Association, Inc
For further information:
Send an e-mail to: whitesmotr@gmail.com