Infant and Child Learning Center
Your support for the Infant and Child Learning Center will help us build a new facility and greatly expand our community-based early intervention program for developmentally delayed and handicapped children, and their families. A team of psychologists, therapists, teachers, social workers, and nurses provide services for children who have physical or neurological problems due to premature birth, birth defects, HIV infection, or other disorders.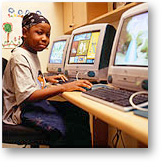 The Infant and Child Learning Center provides a comprehensive service program to children from birth to five years of age. The ICLC trained staff works in partnership with the parents in order to achieve the best possible outcome for their child's continuing development.
We provide Early Intervention Preschool Special Education Services for children with a disability with a variety of medical conditions including: premature birth, neurological impairment, congenital anomalies, orthopedic impairment, and HIV infection. These services are provided at no direct cost to the parents.
» Parent support groups are available to family members who feel they will benefit from sharing common experiences with others.
» The ICLC staff provides quality care to maximize each child's potential, developing individualized goals to meet each child's learning needs.
The program is open to eligible children and their families who can benefit from skilled interdisciplinary services, including:
Special education
Evaluations
Counseling
Daycare
Medical consultation
Nursing services
Occupational therapy
Physical therapy
Speech and language therapy
Psychological sservices
Service coordination
Transportation
Social work services
To contribute to the Infant and Child Learning Center please use our Giving Online page or explore other philanthropic options in Ways to Give.
For Clinical or Program Information Contact:
ICLC
SUNY DOWNSTATE MEDICAL CENTER
670 Parkside Avenue
Brooklyn, NY 11226
phone: (718) 675-1249
For Information about Donating Contact:
Development & Philanthropy
SUNY DOWNSTATE HEALTH SCIENCES UNIVERSITY
450 Clarkson Avenue, Box 93
Brooklyn, NY 11203
phone: (718) 270-6375